Why we love Alpaca wool duvets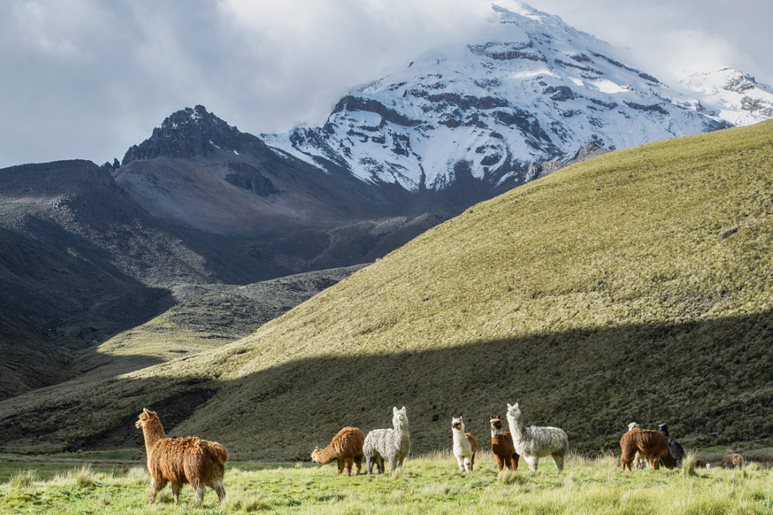 Have you ever stood before the plethora of duvet options and wondered which one is right for me? After purchasing a new bed, a duvet can be one of the most significant purchases you will make for yourself, your bed and your investment into a good night's sleep.  
With so many options available it can be hard to find the right duvet for you. You may choose the luxuriously soft, light and fluffy feel of a goose down duvet for colder months/sleepers, or the soft and snug feel of a wool or alpaca wool duvet for warmer months/sleepers. And those who live in hotter climates, or who are hot sleepers, they tend to prefer light-weight cotton for comfort and suppleness, while something like a Microfibre duvet or a Polyester duvet, on the other hand, may be a better option for allergy sufferers.
When it comes to choosing bedding to compliment the style of your bedroom, your sleeping preferences and your budget, some of us are looking for budget options, while some of us on the opposite end of the spectrum want the ultimate in luxury.
If you're debating whether or not to buy an duvet quilt, here's everything you need to know.
What is alpaca wool?
The natural fibre that's shed from an alpaca is known as alpaca wool. It's a natural fibre that's soft, long-lasting, silky, and smooth. Alpaca fleece is similar to sheep's wool in terms of warmth, hypo allergenicity (due to the lack of lanolin), and prickliness.
Alpaca fleece is used to make a variety of items, ranging from simple, low-cost clothes created by indigenous people to sophisticated, high-end garments such as suits.
Alpaca fleece is regarded as one of the finest, softest, and highest-quality fibres in the world. At Sleepyhead, we have developed a tried-and-true method for mixing these fibres to create the Sleepyhead Alpaca TENCEL® Duvet.
Sleepyhead's Alpaca TENCEL® Duvet has 100% Alpaca wool filling that is wrapped in a specially designed TENCEL® and cotton cover. The end result is an alpaca blanket that is incredibly soft and well-balanced in terms of breathability and warmth, providing the finest bedding experience possible.
What are alpaca wool duvets?
You may find yourself wondering what are aplaca wool duvets? Well simply put, alpaca wool duvets are warm without being too heavy while still keeping you all cozy and warm all night long. Alpaca wool duvets are cozy, lightweight and warm.
Alpaca wool is known for its ability to retain warmth even in thin, light layers while allowing air to pass through the fibre, which is why alpaca wool duvests can be so lightweight while still being warm. Also, because alpaca wool does not contain lanolin, it is considered less allergic than traditional wool bedding. Even if you have a wool allergy, the alpaca wool duvet may give you a comfortable night's sleep under a natural animal fibre comforter.
Our alpaca quilts, woven with 100% TENCEL® and cotton textiles, are drawn from the New Zealand family-owned company's superior craftsmanship as well as the natural and inherent characteristics of alpaca wool.
Is Alpaca Wool Good for the environment?
Alpaca wool is fully biodegradable and originates from alpaca farms right here in New Zealand. Coats are sheared off the animals during the production process, similar to how sheep are sheared. The alpacas are not harmed during the shearing procedure, and their wool grows back throughout the months.
Alpaca wool grows six inches each year on average, with a single alpaca generating enough fibres to construct four sweaters in a single shearing. To put this in context, 16 goats would be required to produce the same number of fibres. This implies that methane and deforestation have less of an impact on the environment while output levels remain high.
Alpaca wool is also fully biodegradable, which is another environmentally beneficial characteristic. Alpaca fibres, unlike synthetic man-made fibres like polyester, naturally degrade and do not take up space in landfills. Alpaca wool duvets are ideal for Kiwis who value environmental policies as much as they value quality and comfort.
What are the advantages of an Alpaca Wool Duvet?
Alpaca wool is prized for its fineness and softness. The alpaca's wool is exceptionally fine and light. It does not absorb water, is a good thermal insulator even when wet, and can efficiently block solar radiation. These qualities ensure that the animals have a lasting and adequate coat to protect them from harsh temperature fluctuations, meaning us people can benefit from the same protection provided by this fibre.
As the list below shows, its bedding properties are unrivalled by any other material.
Warmer: It's simply the warmest, most weather-resistant fibre available. Alpaca fibres include small air pockets that provide excellent insulation and keep you warm in the cold. These same air pockets provide excellent breathability, allowing you to stay cool in the heat. A high-quality light Alpaca wool sweater will keep you warmer than most bulky coats and more comfy than many cotton sweatshirts.
Lightweight: Those same minuscule air pockets aid in the weight reduction of Alpaca fibres, making Alpaca fabric virtually weightless.
Stronger: Alpaca wool fibres are fine, lightweight, and smooth, making them stronger (for the same fineness). Despite this, this high-end fibre is extremely strong and long-lasting. High-quality Alpaca clothing may be passed down through the generations if properly cared for.
Softer: Alpaca wool is softer, less scratchy, and less irritating. Alpaca is a luxuriously silky fibre. Alpaca has no scales on its fibre, unlike its close relative, wool, making it naturally smooth and velvety. This fleece has a cashmere-like feel to it, with a micron count of 16-18. (To give you an idea of how thin Super Fine Alpaca is, most human hair is at least 100 microns thick, which is 5 times the thickness of alpaca fibre.).
Naturally hypoallergenic: Alpaca is naturally hypoallergenic, as it is free of lanolin, which can cause adverse skin problems in certain people. Alpaca wool is classified as a 'dry-fibre' since it does not contain lanolin like other wools. A 'dry fibre' has the advantage of requiring no chemical processing, making it not only hypoallergenic but also exceedingly eco-friendly.
Stronger: High tensile strength makes for an extended life and better durability.
Stays cleaner: Alpaca is lanolin-free and does not collect dust, so it will stay cleaner for longer.
Does not shrink
Odour resistant
Biodegradable: It is a natural biodegradable making it environmentally friendly
Lanolin free: Does not require chemical scouring to clean the fibre
Naturally flame retardant
Water resistant: Alpaca fibre is nearly completely waterproof. This is due to the fact that water is not absorbed into the hair, but rather in sheets of the hair. This capacity is due to the hollow nature of the fibre, which stores more heat and mechanically pushes the water away. Alpaca does not stink and is not susceptible to mould and mildew under normal conditions because of this.
Buying an alpaca wool duvet
Before you decide it's time to buy an alpaca wool duvet – there are a few things to consider. Do you prefer a heavy feeling duvet, or a lighter one – remembering that Alcaca wool is lightweight?
Alpaca wool is one of the most practical luxury natural fillings available, offering a luxurious sleeping experience. It delivers better softness and ideal temperature management without wear and tear, thanks to a wool structure identical to sheep's wool but with stronger tensile strength. Alpaca duvets are the ideal year-round option, keeping you cool in the summer and toasty in the winter while guaranteeing softness.
Try a Sleepyhead Alpaca TENCEL duvet today!
As we know, alpaca wool duvets are cosy and warm while being light weight, water resistant and naturally hypoallergenic.
At Sleepyhead we have developed a wide range of advanced technologies to create excellent beds in New Zealand that ensure your body, especially your spinal, is supported while you sleep – but our Hush Collection of bedding also has a reputation of being high quality and New Zealand made. Our Hush Collection's Alpaca TENCEL® Duvet is the ultimate way to wrap yourself in luxury with its sheer, yet soft TENCEL® and Cotton cover surrounding New Zealand Alpaca – it feels so soft and luxurious – perfect to snuggle into this winter.
Why not take our Sleep Selector Quiz to find the best mattress for your unique sleeping needs, or check out our list of retailers to find a store close to you.