Shopping for a guest bed
The holiday season can translate into a groundswell of relatives and friends who descend upon your home and need a bed for the night…or three! Often the quick solution is to hurriedly borrow an airbed off the neighbours or there's a bit of impromptu couch surfing. Nothing says I care for you and your brood like an airbed, complete with a complicated pump, the fresh new smell of Polyethylene plastic and a pair of thinning old sheets on top. So this year we offer up some permanent cheap bed and affordable mattress solutions for family & friends during the holidays.
Bed in a bag
If you are reading this and literally have NO sleep solution with the holiday season looming, then help is at hand. Despite your repeated reassurances to guests who look in horror at the beaming bouncy plastic goodness of an airbed, they are definitely NOT comfortable. So like the title suggests, the Sleepyhead Zero bed comes in a bag and there's also Sleepyhead Zero Stowaway for super quick convenience. Plus you're doing something great for the planet when you purchase Zero because it's been designed to be recycled. It comes in single or queen size depending on how many guests you have and there's two different models – the step up is a plusher feel. So you get a fantastic affordable mattress but with the convenience of buying it today and taking it home in a duffle bag that can be reused to store things. You'll find the Sleepyhead Zero at Beds R Us
Crash Pad
Got a posse of eight year olds heading over for a birthday sleepover? Good luck. But this is where things get tricky. As the headline insinuates a crash pad is a cheap bed that can handily slide into storage post party. These DreamFoam Crash Pads, like their bed in a box cousins, are a quick fix solution to the armada of aunts, uncles and cousins who may be heading to your place for the holidays.
Sleep & Slide
The Sleepyhead Chiropractic trundler is a perfect space saving solution for those visitors who just show up or possibly have had a few too many festive tipples. By day it's a king single bed sitting in the spare bedroom, by night it converts into a comfy guest bed for a couple. As a trundler with a sliding bottom bed, it's a perfect solution for the visiting grandkids packed off to your place so mum and dad can have a 'holiday'. The trundler is also a perfect first big kids bed for your little ones to grow into & it's great when they have friends to stay over.
Space to Share
Surveys have shown that while we think we need a dedicated guest bedroom – on average we only have visitors to stay for 2-3 nights each year. So question: Do you really need a dedicated bespoke room for guests and do you have the space? If the answer is yes, then you'll need a good bed for that room. It's bed value versus comfort that you need to keep in mind when purchasing for the spare room. Bear in mind that this bed is not being used as frequently as your own mattress so you can afford to choose a bed that isn't as premium as your own. We recommend our Balance or Chiropractic ranges. Next it comes down to feel or the comfort layers on top of the mattress. It's hard to guess what your guests like, so you could go with the popular choice – 70% of Sleepyhead buyers choose a medium feel. Size of the mattress depends on floor space but once again, go with the popular consensus – 60% of all Sleepyhead beds sold are queen.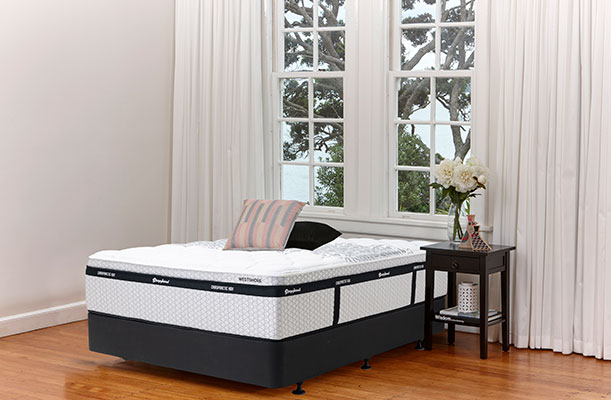 Making the Right Choice For You:
No matter who is going to sleep with you, investing in the right sized mattress is one of the most important factors. Size is a key determiner of the quality of the sleep you'll have. So don't rush into picking a certain size mattress because that's what you've always had.
View our range of mattresses here or take our Sleep Selector Quiz to find the right mattress for you.
Get a Better Nights Sleep with Sleepyhead:
Choosing the right bed size for you will ultimately affect your sleep. The sleep experts at Sleepyhead are here to ensure you get the rest you deserve. Get more sleep tips and helpful information on our Sleep Guide. Explore articles below before you buy your bed:
What's the best mattress size for me?