How To Transport A Mattress
How a Mattress is usually transported
I pulled up behind a car recently and noticed a large bulky mattress on the roof of the late model sedan. Ropes had lashed the mattress haphazardly to the roof rack, squishing it so tight that the springs looked poised and ready to exit the bed like a Jack-in-the-box.
That wasn't even the worst of it. Moving day coincided with one very wet Auckland Saturday & the sodden mattress was dripping and spraying water on the motorway like a high speed sponge. The couple driving the car were blissfully unaware that they'd likely be spending the night on their sofa, presuming that wasn't also in transit exposed to the elements.
Mattresses can be bulky & awkward to transport – rendering them a potential hazard while you personally move them from A to B. Case in point, I once shifted house in Hamilton & a work colleague and myself decided that we'd also try the above method of strapping said mattress to the roof of my old Mitsubishi Lancer.
Weather wasn't a problem on this occasion – but State Highway 1 as it used to veer east of the city – did prove the crucial test.
Airflow over the top of the car was severely compromised – with the front end of the mattress lifting like a tin roof in a tropical cyclone. It was only a matter of time before the flimsy ropes strapping her to the car would be severely tested. As the speedometer ticked over 80kph, my work colleague checked his side mirror then casually pointed out that my queen bed was now providing spring support to hundreds of vehicles blasting along in the middle lane of the country's busiest motorway.
Brakes screeched, horns blasted, traffic was halted and the mattress dragged to the roadside – freshly tattooed with angry tire tracks.
It wasn't just my pride that was damaged, a few wayward springs had not held up to the motorway mattress mayhem.
So, how do you safely move a bed? Here's a guide to doing it properly so you sleep comfortably on your favourite mattress in your new digs.
Note to readers: I'm not writing this so you'll buy a new Sleepyhead mattress. But word of warning – if you choose to transport your bed the WRONG way – there's every chance you'll be mattress shopping post moving day.
Save The Plastic Wrap
Your new mattress arrives, you rip and tear at the plastic to reveal your answer to perfect sleep but here's where you'll need the foresight for that future moving day.
The plastic wrap on your bed fits it perfectly and is made to slide over your mattress and protect it from grubby hands, dirty moving truck floors OR a random rain shower while it's on the trailer. Sure, there's a lot of plastic to store & you swore you'd never move after the last time but stash it away in the garage and that day will come when you'll need it.
Even if you're not moving – the bag comes in handy for stashing your bed in long-term storage.
Get Help
Moving is never fun & shifting a mattress solo is a tough task. A bed is an awkward household item to shift by yourself because of its dimensions and it can be very heavy – especially if it contains layers like latex.
Match Your Move To Your Mattress
If you have a spring bed then folding or bending the mattress while moving will damage the structure and could ruin it. But if you have a latex, foam or memory foam mattress, like our Sleepyhead Zero then it has greater flexibility since it originally came in a bag rolled up.
We don't recommend your reroll or bend a foam mattress while moving but you'll find it will spring back or regain its shape faster than a spring mattress.
Moving By Car
We don't recommend you move your mattress by car. Why not? The rope or straps securing a bed to roof racks or even the car itself, can do some damage to the foam casing of your mattress or compromise the spring system. Plus, anything bigger than a queen size bed is probably not going to fit on your standard vehicle – SUV or not.
And as per the cases already stated, putting your mattress on a car could soak it or send it into traffic and likely cause an accident – or in my case – bad dreams of being run over!
Moving By Trailer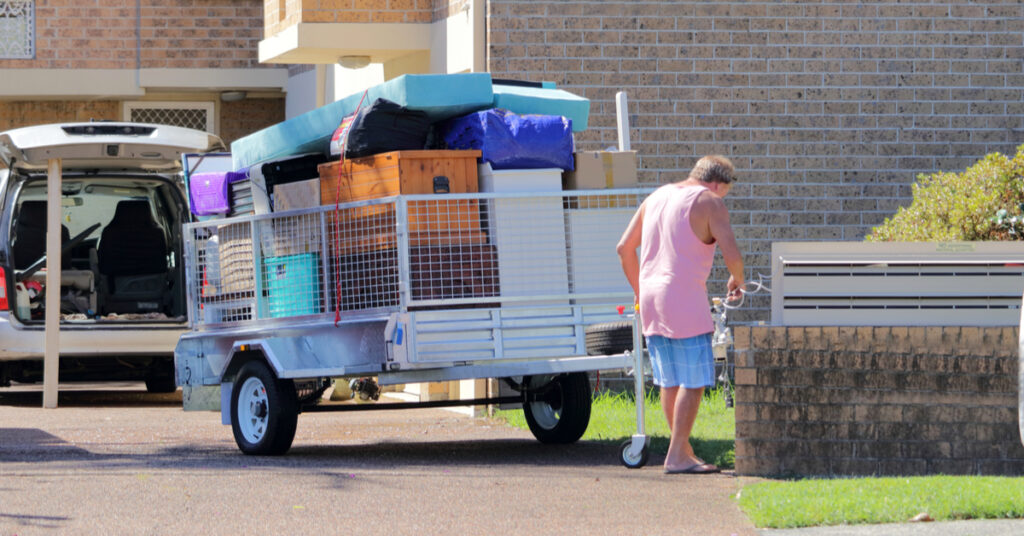 A harder option these days as less vehicles come with a tow bar. However, if you have a tow bar – getting a trailer is easy and a much safer option for transporting your mattress.
Preferably hire one with a high safety railing & make sure it's secured on its side to the railing using straps or rope – but not too tight that you might damage the springs or foam. You can also lie your base and mattress flat, however if you are shifting other household items, then pop your bed on top rather than at the bottom under heavy items then secure it with ropes or straps.
Moving By Truck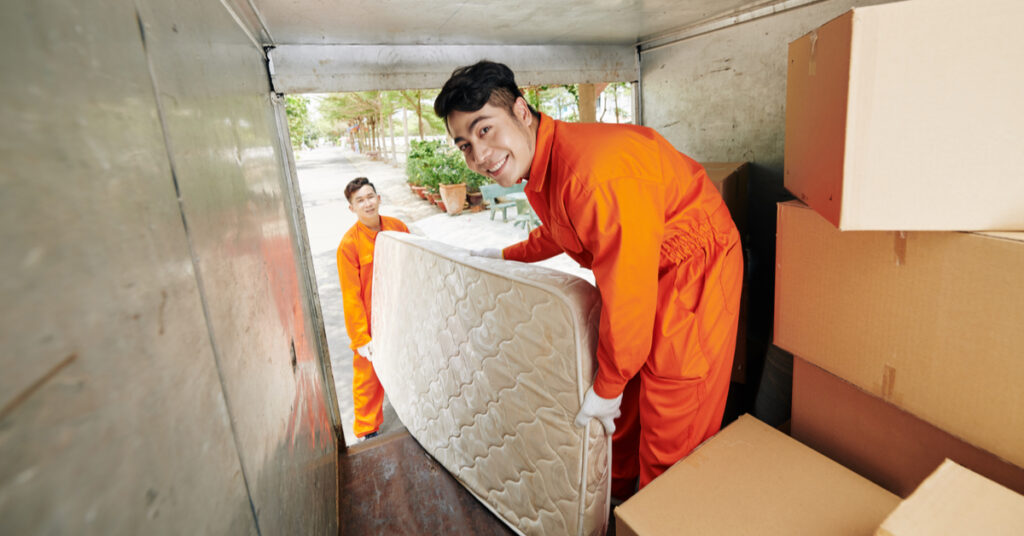 This is the best option by far because your bed will be secure inside a van or truck and out of the weather.
If you have a moving company then this is even better as they do all the heavy lifting and secure your mattress to the side of the truck and most of them use old rugs or material to protect the mattress from getting dirty. Even if you don't have a plastic cover for your, leave your mattress protector on the bed because it may help keep it clean during transit.
Be Warranty Weary
Our beds carry a warranty that generally ranges from five to 10 years. Warranties cover any potential manufacturing defects but do not cover any damage incurred when you move your mattress – so be very careful.
---
Making the Right Choice For You:
No matter who is going to sleep with you, investing in the right sized mattress is one of the most important factors. Size is a key determiner of the quality of the sleep you'll have. So don't rush into picking a certain size mattress because that's what you've always had.
View our range of mattresses here or take our Sleep Selector Quiz to find the right mattress for you.
Get a Better Nights Sleep with Sleepyhead:
Choosing the right bed size for you will ultimately affect your sleep. The sleep experts at Sleepyhead are here to ensure you get the rest you deserve. Get more sleep tips and helpful information on our Sleep Guide. Explore articles below before you buy your bed: