Room With A View
Don't leave town until you've seen the country! Remember the 1980s New Zealand tourism campaign? Now we're all living it as any hopes of holidaying in overseas balmier climes have been curtailed for the time being.
So holidaying at home it is for the time being.  It's not so bad – staycations can be a great way to explore our island paradise. We've compiled a list of places to stay from fancy to fun – with the idea of booking a room with a view.
Luxury
When your New Zealand holiday is all about champagne wishes and caviar dreams you shoot for the stars. The Bay of Many Coves in the Marlborough Sounds is isolated, private and in an idyllic setting with water views from your room across the bay. And in total luxury, you'll be sleeping on our very own Sleepyhead Commercial mattresses. You're near the famous 71km Queen Charlotte track or hit the water in a kayak or paddle board. However, staying at the Bay of Many Coves means booking a Room of Many Dollars – you're looking at more than $800 for a night in this South Island paradise.
What about a room with absolute indoor outdoor flow? Not camping, but sleeping in a PurePod. Spend the night in a glass haven with killer views, where lying in bed and opening up the pod feels like you're immersed in the surrounding flora and fauna.
A night in nature, star gazing at one of six South Island locations in absolute tranquility and peace will set you back about $590 plus you can get add ons like a dinner and breakfast package.
How about a remote, wind swept location with stunning views from Cape Kidnappers and a cheeky round of golf on one New Zealand's premier courses? It's called The Farm but don't think shearing quarters – this is the pure definition of luxury lodge living. Seeing the gannet colony out at Cape Kidnappers might be the cheapest thing you do during your stay with prices ranging from $865 per person a night and up around $6620 for a suite in peak season.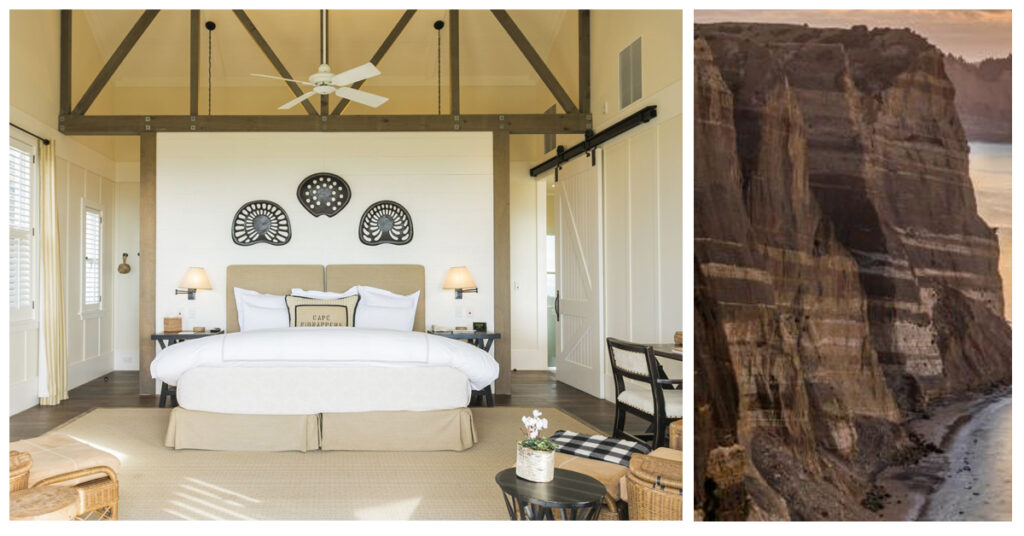 Next, you will need to channel the A-Team introduction… If money is absolutely no object, you've got a helicopter or super yacht & if you have the right connections, you can stay at Great Mercury Island. Think Fantasy Island crossed with Lifestyles of the Rich & Famous – $20,000 gets you a guest house on the island with everything you could possibly need – more importantly you get pure privacy. The island is owned by banker Michael Fay, of Fay Richwhite notoriety, so it's private property in case you get followed by the paparazzi and need a safe haven away from those pesky lenses.
Quirky
Who doesn't want to experience absolute waterfront with stunning views across the Cook Strait and a room that floods with eyelid piercing light every 20 seconds? Well that might have been the case back when The Lighthouse was operational but now it's just a very cool place to stay in Island Bay, just 15 minutes from Wellington CBD. Fossick among the rocks, says the website or pop along to see the seal colony at Red Rocks nearby.
Like shipping containers, grain silos are being converted and turned into all manner of things from restaurants to bars, homes, shops and accommodation. SiloStay, just out of Christchurch has rooms inside the custom designed grain silos or up the coast in Kaikoura there's treehouses you can sleep in with amazing views of the coast from your bedroom at Hapuku Lodge.
Surround yourself in sculptures, gardens and kitsch art at , The Giant's House at Akaroa is sold online as the happiest place on earth – so why not spend a night there? Happy in this case looks like the lovechild of Spanish architect Gaudi & the Kawakawa toilets. Inside the Giant's House there's bed and breakfast accommodation which has several rooms including one where you'll spend the night in a boat bed. Bon voyage!
Relaxing
What happens if you just want to spend a night somewhere doing absolutely nothing but soaking up the atmosphere? Kokohuia Lodge up in Omapere, Northland is off-grid eco accommodation with stunning views across the Hokianga Harbour with those wild sand dunes. Best place for a drink and to watch the sunset plus you could do this all from the comfort of your bed. Auckland CBD has a myriad of accommodation and for 2020/21 there are a number of new luxury hotels coming online in trendy precincts like Britomart and Wynyard Quarter.
The Travelodge Hotel Wynyard Quarter Auckland has views over the harbour and yachts below and is the perfect play to chill out from the busy city below. Plus you get to fall asleep on a comfy supportive Sleepyhead commercial mattress.
Finally, immerse yourself in a remote room that's set into the wild west coast bush with coastal views and absolute seclusion. Woodpecker Hut had us at the front door where there's a cedar hot tub to sit and soak up the views plus a log burner inside to keep you all snuggly and warm. This cute little rustic chic hut has tasteful simplicity and really is a room with a view to the West Coast – half way between Greymouth and Westport.
Adventure
Sometimes you just appreciate a comfy bed and a place to relax that little bit more after a day spent exploring our beautiful country. Putting in the adventure miles doesn't necessarily mean bunking down in a tent in the middle of nowhere.
Milford & Routeburn Tracks in Fiordland both have more upmarket alternatives to staying in DOC huts with crisp clean white sheets on beds instead of bunks and a hot shower at the end of a hard day's walking. Why munch on scroggin when you could sip award winning wines while dining on anything other than freeze-dried food?
To the top of the South Island and the Abel Tasman is another great walk but you can kayak it as well. It's easy enough to paddle your way into the park then stay at Torrent Bay in the lodge to relax and have someone else take care of you instead of setting up a tent in a campground then waiting for your water to boil.
If mountain biking is your thing, try a private 27km loop trail south of Queenstown in Otago and enroute there's the Mud and Slate Huts to give you absolute solitude. While they're not exactly 5-star, they are all yours for the night and come with an open fire place, an outdoor bath, bunks and apparently according to the website – you may see a mouse (so I'd lock away any food if you don't want to be awake all night with hungry rodents).
Finally, why not push the boat out with a trip into one of the loveliest spots this author has experienced in the New Zealand backcountry. The Siberia Valley is in Mount Aspiring National Park and the views are jaw droppingly beautiful. You'll walk through it as part of the Gillespie Pass Circuit track but there are other ways to experience this valley. It's possible to helicopter or fly into the valley, and stay the night in the Siberia Hut. From here you can do an easy day hike up to the glacier fed Lake Crucible and then a short hike along the Wilkin River where you can get picked up for an exhilarating jet boat ride to Makarora on State Highway 6.